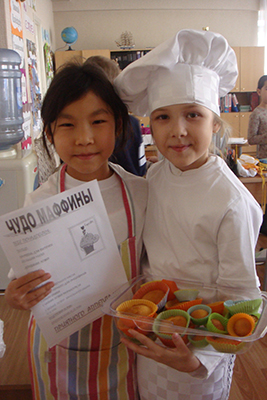 The basis of teaching and learning in primary school is inquiry. Teachers tend to follow the idea of system - active approach, promoting children's constructive inquiry through open / discussion questions, provocations, problem situations, excursions, questionnaires, presentations and conferences. Students are motivated to a systematic inquiry of objects and phenomena of reality, the use of different sources of information, conducting experiments, surveys and tests through the study of important global ideas in six transdisciplinary themes:
☺ WHO WE ARE
☺ WHERE WE ARE IN PLACE AND TIME
☺ HOW WE ORGANIZE OURSELVES
☺ HOW WE EXPRESS OURSELVES
☺ HOW THE WORLD WORKS
☺ SHARING THE PLANET
Learning and inquiry activities of younger schoolchildren is transformative in nature, that is, children watch, compare, group, categorize, find out the patterns and make conclusions.
Commonwealth of teachers, students and parents in inquiry contributes to the formation of a complete picture of the perception of the world, the development of understanding of the relationship between man, nature and society, the definition of their role in the family, local, national and global community. The inquiry approach in teaching and learning is realized through the collective - cognitive and project activities, strengthening of student autonomy, the development of research, thinking, communicative and social skills, skills of self-management and reflection, as well as the cognitive activity of students.
Student's progress in learning and all the products of educational and cognitive activity of the student, reflecting both the learning outcomes and the efforts made by the child to the construction of new knowledge is assessed.