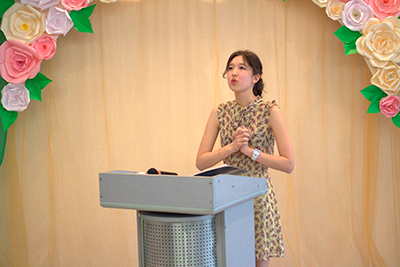 Personal project is a mandatory individual research work of students in Grade 10 of IB/MYP programme.
Students can spend up to 25 astronomical hours for completion of the Personal project. During this time, students are to create and complete a product/outcome and make a written report in accordance with the requirements of the main document - "Project Guide 2014".
The project starts with investigation. Students analyze the world and define the global context for the project in order to objectively assess the interest of society to it and the usefulness of the research.
What are the requirements for the product/outcome?
Product / outcome - it is part of the project. It may be an original work of art, model, business plan, campaign, project or architectural drawing, essays, course of study, debate, film, or other types of work. Students ate to independently develop objective criteria to measure the quality of the final result or product/outcome of the project.
How to create a successful report?
The report - is an oral or written description, aimed at clear and concise information on the work done.
The report can be made in the following formats:
Writing;
Electronic (website, blog, slideshow)
Oral (podcast, broadcast);
Visual (film).
When submitting the report to be assessed the student is to provide:
The title page of a personal project;
Completed form to academic honesty;
Excerpts from the log of the process;
Any additional visual aids used during the presentation;
Bibliography resources.
It requires pagination, table of contents and counting the number of words. The length of written report is 1500-3500 words in English..
How is the personal project assessed?
The project is assessed by an independent commission according to a written report in accordance with certain criteria.
Criteria for assessing the Personal project:
Criterion A – investigating
Criterion B - planning
Criterion C – taking action
Criterion D - reflecting
The maximum level of achievement for each criterion is 8.
During the period of the project completion, students regularly meet with supervisors and Projects leader. Process journal demonstrates evidence of independent research work of students, reflects the development of the creative process. Extracts from the process journal are to be included to the appendixes of the report to fully prove the realization of the project objectives.
The experience of ICCE students
The personal project is the result of painstaking, interesting and creative work of our students. They demonstrate the ATL skills development, intercultural understanding and global participation. Personal project is a culminating event, a gala celebration in MYP, in which each expresses his/her personality, their capabilities and interests. Most students successfully cope with the tasks, are disclosed in the course of the project, acquire new experience and knowledge.