School is a state; it is a world where our students have been living for eleven years. School traditions are the link that unites graduates, teachers, pupils and parents. Our traditions are the signs of the mature team. We feel influence of traditions on holidays, and everyday life of the college. The established traditions create the special, unique atmosphere of mutual understanding that distinguishes our college from other schools. Our traditions contribute to the cohesion of the school community, enriching our life with new meaning.
In our college we have the tradition to: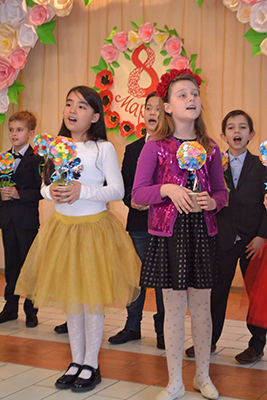 start the school year with the official "Day of Knowledge";
complete the academic year with the competition "Student of the Year", which summarizes the achievements of students in different nominations;
demonstrate students' achievements at parental conferences, present the student's portfolio;
arrange the presidential elections in accordance with the Election Regulations
carry out the campaign "Road to school";
celebrate the Day of Languages of the Republic of Kazakhstan;
carry out an action "Caring for the elderly";
celebrating the Teachers' Day, preparing the concert;
arranging the autumn holiday with "Dad, Mom and I - sporting family";
honor first-graders in the PYP family;
organize the ceremony of MYP certificate award;
meet with students, teachers and parents at the conferences to communicate in the environment of understanding and trust;
arrange the trip to the mountains where each student feels part of a mixed-age college family;
have the ball "Golden Autumn", to participate in the disco;
carry out the event "Help the children";
organize the charity exhibition and sale of handicrafts;
get the top awards in traditional city competitions in football, volleyball and chess;
have the Day of Peace: "Kazakhstan - nuclear-free zone";
celebrate the Day of the First President;
carry the event "We choose life";
celebrate the Independence Day of the Republic of Kazakhstan;
celebrate the Day of the state symbols;
arrange Christmas parties;
make the concert March 8 "For the glory of a woman" prepared by the participants of musical, theatrical studios and student council;
celebrate the holiday "Nauryz";
make the event "These days do not fade fame";
celebrate the Day of Unity of Peoples of Kazakhstan;
celebrate the Day of Defender of the Motherland;
arrange the ceremony for the graduates of grade 11 "Last Call"
organize and carry out the exhibitions of academic achievements and research in the PYP programme and MYP Personal Project;
make the environmental initiatives that are relevant to the local environment;
arrange the music room "Autumn Gift", "The first steps of the young musician", "Spring mood".