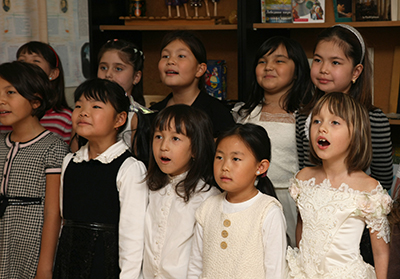 Students can get musical education in the music studio or music school. Music studio and music school have different aims and objectives.
Classes in the music school are based on the Typical program of music school for children in the Republic of Kazakhstan. After finishing music school children receive State certificate.
To acquire practical skills of playing musical instruments instrumental piano, dombra, violin and flute classes are arranged.
Visiting the vocal studio classes noise orchestra classes participants will be able to develop vocal skills and gain experience in stage performance. Students of all ages are united in group of "Young dombra players", that has celebrated its twentieth anniversary.