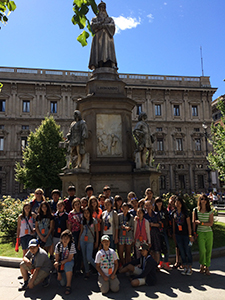 Language is a tool of transferring feelings, exchanging ideas and experience with other people, key to the development of students on a social, emotional and cognitive level. In the Republic of Kazakhstan the unique policy of three languages (Kazakh, Russian and English) is realized. President of the Republic addressing to the people noticed that for a modern citizen of the Republic of Kazakhstan acquiring three languages is the necessary condition of well-being.
In the International College of Continuous Education students have opportunity to learn several languages, develop and support native language. Language learning provides access to the different cultures and perspectives, enriches personal development of students and promotes development of international mindedness.
The main objective of the language club "Meridian" is development students' interest to language learning and practical use of acquired knowledge.
Attending language club students can explore ethnical peculiarities and traditions of Kazakh people and peoples living in Kazakhstan, culture of Great Britain/ It promotes polycultural development of person.
Students of grades 5-11 have opportunity to learn additionally second foreign language in the format of optional course. Usually these are students who plan to continue their education abroad or foreign students who want to support their native language getting education in Kazakhstan (see Language Policy of the ICCE).