Ability to communicate is the way to happiness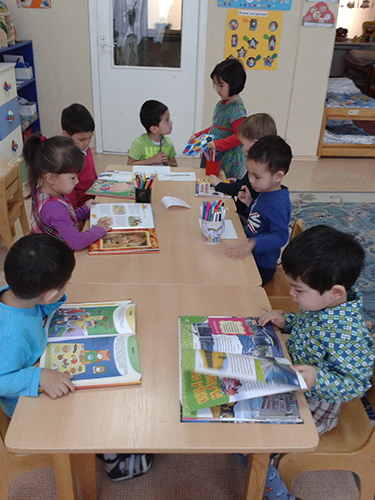 The language of instructions in the ICCE is the Russian language. This is the language in which most of students think and speak.
Native language of many students is Kazakh language. This language has the status of State language supported by national policy and is learnt by all students of the kindergarten.
Those students whose native language is language different from those included into curriculum, receive support of school in development of native language.
English language is the second language (Language B). Teaching English language to students teachers apply differentiated approach. Students are taught in groups according to their levels.
Developing communicative competencies of children is realized during classes as well as during main types of children's activity: playing, communication, and experimental practice. The aim of pedagogical collective is to provide the base level of Kazakh, Russian and English language acquisition paying attention to practical application of the acquired knowledge.
The system of contemporary methods and optimal ways of interactive modes of teaching allows teachers to meet objectives successfully, and students acquire language skills quickly and with eases.