We are researching the world
International college of Continuous Education implements the IB Programmes for 3-10 years old students (PYP – authorized in 2005 год) and 10-16 years old students (MYP – authorized in 2003 год). Primary Years Programme (PYP) includes age level of the kindergarten (3-6 years old students) and age level of the primary school (6-10 years old students).
International Baccalureate Primary Years Programme (PYP) is developed for the 3-12 years old students and can be implemented in any language.
The Programme combines the best achievements of scientific researches and practices of IB World schools providing comprehensive approaches to teaching and learning and is aimed to overall development of children, meeting their academic, social, psychological emotional and cultural needs.
Approaches to learning are based on child's interests, abilities and needs. Knowledge are not given to children as ready facts but are acquired by them in the course of researching, independent analysis, comparing main attributes, receiving new knowledge through 6 areas of investigation: WHO WE ARE, WHERE WE ARE IN SPACE AND TIME, HOW WE EXPRESS OURSELVES, HOW THE WORLD WORKS, HOW WE ORGANIZE OURSELVES, SHARING THE PLANET. The child acts as inquirer, "getter" of knowledge. The process of learning becomes a creative activity, and child's attitude to the world around him/her changes from "know, do not know" to "searching for and find", "reflect and find out", "try and do".
«To see the world by child's eyes»
Integrated course of learning in the kindergarten is implemented upon PYP six areas of knowledge (Language, Social studies, Mathematics, ARTs, Science, Physical, social and personal education) and five areas of knowledge according to the National standards of education of the Republic of Kazakhstan (Health, Communication, Cognition, Creativity, Society).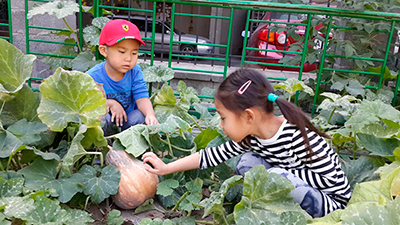 Integration of educational areas provides opportunity for all-round development of each child, supposes determining and constructing the learning process, objective diagnostics of the results of learning activity.
Peculiarities of organizing the educational process in the kindergarten and types of interaction between teacher and children allow achieve good results in learning through different types of interaction and different roles accepted by teacher:
Teacher's role "Teacher" who poses learning objectives for children and uses pedagogical methods to meet them;
Teacher's role "Equal in rights partner" involved into activity with children who meets different pedagogical objectives through participation in various activities;
Teacher's role "Creator" developing educational environment, actively observing activity of children allowing them to act independently.