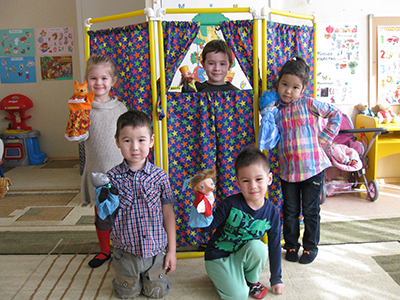 On the basis of the kindergarten function adaptive and educational mini-centers The purpose of the mini-center is comprehensive development of children aged from 2 to 6, consultative and methodological support for parents, education, training and social adaptation of children.
The main objectives of the mini-centers are:
providing early socialization of children;
the mental, physical, aesthetic, emotional and cognitive development of children, taking into account individual characteristics and capabilities of each child;
maintaining health and well being of children;
organization of child care;
timely correction of deviations in the development of children;
psychological and pedagogical education of parents.
Educational activities in the mini-centers are realized in accordance with the requirements of National standards, IB PYP and individual approach to each child considering age and psychological characteristics.
Schedule:
Part-time group – Five days a week, 8.00 – 13.00
Early development group - Tuesday, Thursday, 9.30 – 12.30. Programme proposes activities on sensory development, music, creative activity, speech development and social adaptation of children.
Group of intensive preparation to school – Monday, Wednesday, Friday , 9.30 – 12.00. The programme proposes classes on writing and reading, speech development, Kazakh and English languages, mathematics, modeling, ARTs.