Library - Resource Center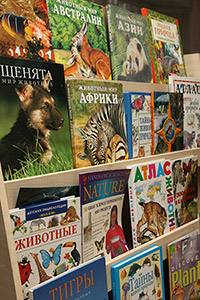 Library - Resource Center - educational, informational and cultural center of the college, providing the necessary resources to the educational process and self-education of the teaching staff and students in accordance with the main directions of National standard and MYP and PYP programmes development of the college.
The library covers an area of over 100 m2, there is a store, a reading room, computers, the Internet and multimedia equipment.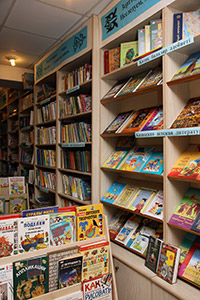 All students and teachers are provided with the necessary training and teaching aids. Library annually is provided with up to 50 newspapers and magazines, is regularly updated with encyclopedia and reference literature. General fund includes more than 9000 titles, the general fund of textbooks is about 15000. Young readers have opportunity to take part in different contests and quizzes, games and holidays, literature and information days, presentations and exhibitions. In addition, we pay special attention to the development of information literacy skills for search, selection, processing, evaluation and presentation of information, for which there are special library lessons, workshops and trainings.
Information center is a core element of school life with all information, documents, policies, and guides, regulatory and explaining materials for teaching staff, parents and students. All materials are freely available for reading and studying.